Good news!
SENSORY PEOPLE's
Summer/Winter Scheme 2020/21
Sensory People is a Stourbridge based charity working with children and young people to address their sensory and developmental needs using Sensory Integration Therapy.
Pre-Covid the charity worked from bases in Romsley and Erdington, where they used Sensory Integration (SI) therapy to support up to 15 children aged 6-16 with a 1 hour, weekly 1-1 therapy and a preschool "Play with Words" scheme for 3-5-year olds supporting their learning and language development.
Just before the lockdown in March 2020 the charity was about to commence working with a small group of local home educated children using the Cool Kids programme; through this structured sensory motor programme children with poor motor ability who may have a diagnoses such as dyspraxia, autistic spectrum disorder or difficulties with speech and language would be helped to catch up on their foundation skills and start on a journey towards being calm, confident and able to concentrate.
This plan was unfortunately abruptly halted. However, eagerly spotting an opportunity – the charity made a bid for the National Lottery Emergency Fund and were thrilled to receive funding to support the charity and new ways of working within the COVID-19 restrictions and risks.
In August of last year, for three mornings a week from 11am to 1pm an outdoor version of the Cool Kids Programme took place in a large and windy field near Stourbridge. SENSORY PEOPLE collaborated with FAIRPLAY sport's coaches to support 12 children and their families and deliver this dynamic scheme. The children aged from 5-9 years old were directly supported by their families on a one-to-one basis where possible and their families in turn were supported by an Occupational Therapist/ Sensory Integration Practitioner. Siblings were welcome, however on another occasion we would try to have a separate siblings programme as well!
The risk assessment was considerable and each day temperatures were taken; hand and equipment sanitizer liquid and sprays were used liberally. Each family were a 'bubble' and brought their own tent/gazebo for protection from the elements – whatever the weather we continued come rain or shine and it was very warm on some days!
The families were encouraged to work together with their children so they could continue the activities at home – this involved exercise which helps with the development of gross motor skills including basic movements such as rolling, crawling and jumping, playing ball and doing movement games. All these activities aim to support the children in developing their foundation skills, body awareness, praxis, and bilateral movements. Children with problems regulating their emotions / modulation difficulties benefitted from controlled movements which stimulated their proprioceptive receptors such a having a tug of war, hopping or jumping on the spot.
As part of the scheme each child was asked to undertake some simple movements and then draw themselves, trace over spirals and copy a few lines of writing before the scheme began and at the end of the scheme.
All off the children who attended showed some positive changes in their lives after the 24-hour programme and, for the families, a lot of fun was had! Fresh out of the first lockdown the fears and desires of everyone were great – no two people have had the same experience and we were aware the great outdoor space could hold many challenges. Fortunately, we were thrilled that all went to plan – even on the rainy days when we took shelter in a polytunnel!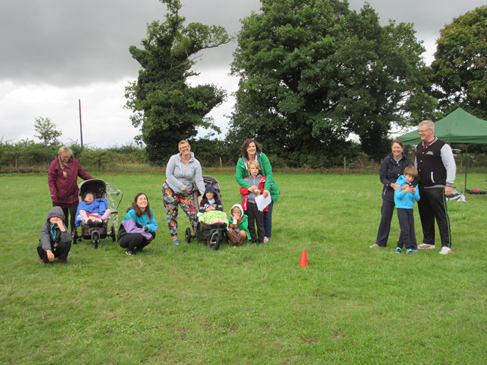 When September arrived, we reinvented the programme again. Many of the children were in the process of benefiting from the Cool Kids Programme and welcomed the opportunity to continue. As the national situation with Covid19 has continued to be a challenge to working in our usual venues, the charity were able to use a polytunnel near the field – a perfect outside, covered and waterproof space as we moved towards the Autumn, Winter and more inclement weather. The group sizes changed from a large group to smaller groups, reflecting the work at Erdington and Romsley – one hour per one or two children with a sports coach. The Play with Words/Cool Kids Scheme for preschool children started up with two children and two parents, a speech and language therapist and a sports coach.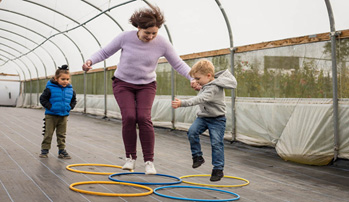 The children have all made good progress, individually going at their own pace with often considerable individual outcomes. Looking back to August we had good and positive feedback and outcomes: an "improvement in ability to regulate himself/manage his frustrations/emotions," "more cooperative with his brother," "improved confidence enabled him to climb a wall at park very confidently," "improved sitting and concentration", "he's saying some more words". All of this has taken place within the national Covid-19 regulations of the time.
Sensory People sincerely thanks the National Lottery Emergency Fund and all those local people involved for their cooperation and wonderful flexibility enabling us to continue running such a successful scheme. You can find out more about Sensory People at www.sensory- people.co.uk or email info@sensory-people.co.uk
Work in progress January 2021!
Sensory People (SP) commissioned Susie Green to gather and tell the stories of past and present clients and their families. We believe the best evidence to support Sensory people's work is within the therapy stories and this is perfectly communicated through the words and experiences of children and their parents. Susie has extensive experience in listening to these stories and sharing them in a sensitive and meaningful way. She is passionately concerned that people will have easy access to services that will make a real difference to their lives. She brings this concern to bear as she hears, writes and shares the ups and downs of each very individual therapeutic journey.
We find that families have often been struggling for some time before they are signposted/come to hear about the charities work. They may have gone through a challenging and often long process of finding support and 'will do and try anything' to support their child. Sensory People's aim is to meet that need with a team of supporting associates alongside Sensory Integration Therapists (SIT) in the form of speech and language therapists, occupational therapists and sports coaches.
By gathering these testimonials together we hope to shine a little light on the remarkable children we have met and hope that their (and their families) resilience and strength will support those who are embarking on the SIT journey. For many, the process is a long one, children often come to weekly therapy for at least a year and for some longer than that – this is the way for the therapy to gradually help children to develop effective emotional regulation, social skills, and play skills including gross and fine motor skills.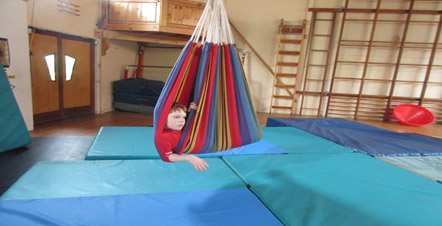 When completed these testimonials will be available on the website.
Our thanks to Susie Green!