Jeremy's story told by his mum Susie
Hello, I'm Susie, Jeremy's mum. This is my story about his early years and sensory journey.
The sleepless nights of a new-born baby can come as quite a shock to the system for any first-time mum but Jeremy's sleeping pattern and his frequent meltdowns somehow seemed more stressful, more challenging and more tiring than what other mums were experiencing. Even so, I didn't know any different so assumed that this was the norm.
When I took him to baby groups, he wouldn't join in at all but just sat on my lap. This was embarrassing for me as he'd just cry. And when they did music sessions, he was overwhelmed by the sound and clearly wanted to get home. Me too. Sometimes he was so traumatized by the whole experience that I couldn't get him into his car seat and had to get a friend to help. More embarrassment – you look as though you are fighting with your child.
He also seemed to be struggling to cope with the general give and take, rough and tumble, enjoyed by the other children, so what was different about my little boy that he couldn't manage this ? The prospect of the next stage, kindergarten was worrying.
We didn't understand at that stage that he had specific sensory needs and this was really hard, especially for his grandma who he didn't want to have any physical contact with. Can you imagine how she must have felt ? But it was the opposite with me – he was very clingy and spent a lot of his time in repetitive play which looked sort of unimaginative, such as laying out his toy train track all the time. Other oddnesses were that it took ages to toilet train him and for a long time, he ate with his fingers and was very fussy about what he would eat.
By the time he was five, he was like a 'kid in the corner'. If we tried to prise him out, sooner or later it would lead to a meltdown. By this time, I felt I really needed help but it was almost reassuring when his teacher told me that although he struggled in the classroom and the playgrounds, he was actually bright, even though he didn't engage very well with her or his classmates. She had also noticed that his attention span and his ability to do things were poor. This was a tiny scrap of good news, but most of it was very worrying. A visit to our GP, seeking help, lead to a whole string of referrals. First of all there was an NHS Paediatrician, then loads of therapies – Occupational, Physio and Speech and Language, none of which really made any difference.
At about this time when Jeremy was nearly six I approached Marion, an Occupational Therapist and her colleague Janet who was a retired teacher, who were doing sessions every week in Jeremy's school gym using an approach called Ayres Sensory Integration Therapy for children with problems a bit like Jeremy's. It was this that transformed all our lives.
Initially we had a discussion about Jeremy's strengths and limitations and I read a book called the 'Out of Sync Child' (Carol Stock Cranowitz, 2005 Penguin Random House) that helped me to understand what it was all about. Marion did various assessments which gave us an understanding of why he was struggling – the tests showed that he had Sensory Integration Dysfunction. It seemed at last that somebody knew what was really wrong with Jeremy.
If you look at the photos you can see some of his difficulties. In the photo below you can see he looks a bit like a tin soldier, he had very mechanical movements.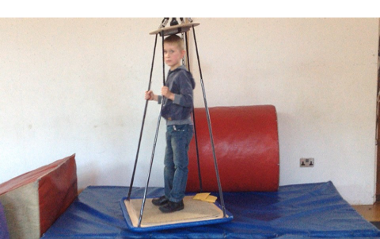 In the photo belowthere is a lady sitting on a scooter board which actually rolls quite easily. Most children would push her along but Jeremy didn't want to touch her so tried to make the board move by pushing at its corner!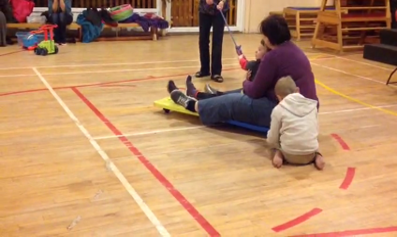 Jeremy had sessions for two years and at the end of that time he was presented with the following certificate: (TO BE ATTACHED)
After this when Jeremy had finished his weekly one-to-one sessions, we were given examples of activities that he could continue with in order to maintain progress as he grew.
Great excitement! We went canoeing and he went cycling as part of a group. He joined the local football club and he now has five or six friends who live close by who knock on the door to ask him out to play football with them. Occasionally he gets the odd thump or elbow in his face but it doesn't seem to bother him. He's much more resilient now, even going out independently with his mates, sometimes to the West Bromwich Albion Stadium. Occasionally he throws a wobbly but his brother notices and asks about it, which gets him back on the right track. Mostly he's pretty normal now.
I've stayed in touch with SENSORY PEOPLE, initially as a Board Member but am currently busy developing my own approach to teaching children the piano. Jeremy is 11 now and it was really helpful when we had a few difficulties with his school work during lockdown, I was able to contact Marion. She reminded me that Jeremy literally needed to keep moving. He'd got very absorbed with building computers which he was good at and really enjoyed but it meant that physical activity got neglected. After a number of Cool Kids sessions with SENSORY PEOPLE Marion suggested that we ask a physiotherapist to help us identify exercises that would help to strengthen his upper limbs, which we did. It's so reassuring to know that SENSORY PEOPLE is there to help us if we hit a problem.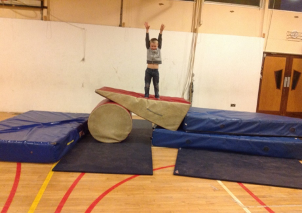 Written in January 2022